Apple iMac Full HD 1920x1080 21.5-inch Display, MacOS, 6 Mth Wty (Refurbished)
$99995

$999.95
Tax included.
Shipping
calculated at checkout.
---
---
Apple iMac 21.5-inch - Intel® i5-4570R 2.70GHz Quad Core, 8GB RAM, 500GB HDD, Full HD 1920x1080 21.5-inch Display, MacOS, 6 Month Warranty (Refurbished)
Apple iMac 21.5-inch
It has Even More of an Edge in Power
The iMac is amazingly thin, yet it offers fourth-generation Intel Core processors, faster graphics, the advanced Fusion Drive and flash storage options, and ultrafast 802.11ac Wi-Fi. So it's powerful enough for a design studio, production house, or science lab. And beautiful enough for any room in your home.
Fourth-Generation Intel Core Processors
Fast Comes Standard
Core i5 and Core i7 Processors.
The fourth-generation quad-core Intel Core i5 processor — based on the latest Haswell architecture — is standard on iMac. It's available at a clock speed of up to 3.4GHz. Or configure iMac with a quad-core Intel Core i7 at up to 3.5GHz. Since OS X is designed to take advantage of each core, iMac captures every bit of performance from the processor. OS X also supports Hyper-Threading in the Core i7, allowing two threads to run simultaneously on each core — giving you eight virtual cores of processing power.
Turbo Boost 2.0.
Say you're using a processor-intensive application like Aperture or Final Cut Pro that benefits from extra power. Turbo Boost 2.0 automatically increases the speed of the active cores, so the Core i7, for example, can offer up to 3.9GHz. And by shifting core frequency in small increments, Turbo Boost allows the processor to manage performance without sacrificing efficiency. All this takes place behind the scenes, so your work — and play — goes smoother and faster.
New NVIDIA Graphics
Next-Generation Speed
iMac graphics have gotten even more powerful across the board. NVIDIA GeForce 700 series graphics processors are faster than the previous generation and include double the video memory. That translates into more frames per second, smoother animation, and better responsiveness when you're using graphics-intensive apps like 3D games, high-resolution photo and video editors, and more.
Faster Fusion Drive
High Capacity Meets Higher Performance
If you choose the NVIDIA GeForce GTX 780M with 4GB of video memory on the 27-inch iMac, you get the best graphics performance available in an all-in-one computer. And if you go with the 2.7GHz iMac, it comes with integrated Intel Iris Pro, which delivers discrete graphics-level performance.
802.11ac Wi-Fi
The New Definition of Fast
With three-stream 802.11ac technology, iMac takes desktop Wi-Fi speeds over the top. When it's connected to an 802.11ac base station — including the new AirPort Extreme and AirPort Time Capsule — you can reach data rates of up to 1.3Gbps. That's triple the previous 802.11n standard, which means you'll get up to three times faster Wi-Fi. You also get double the channel bandwidth, with 80MHz-wide channels providing more room for more data to flow faster than ever.
Thunderbolt I/O
It's All About Speed and Versatility...And Speed
With one tiny port, you get superfast data transfer speeds and huge expansion capabilities. Thunderbolt features two 10Gbps data channels per port, which means data transfer is up to twice as fast as USB 3.0 and up to 12 times faster than FireWire 800. And don't worry about a single drive or peripheral tying up a Thunderbolt port: You can daisy-chain as many as six devices plus a display. All iMac models include two Thunderbolt ports for even more expansion possibilities.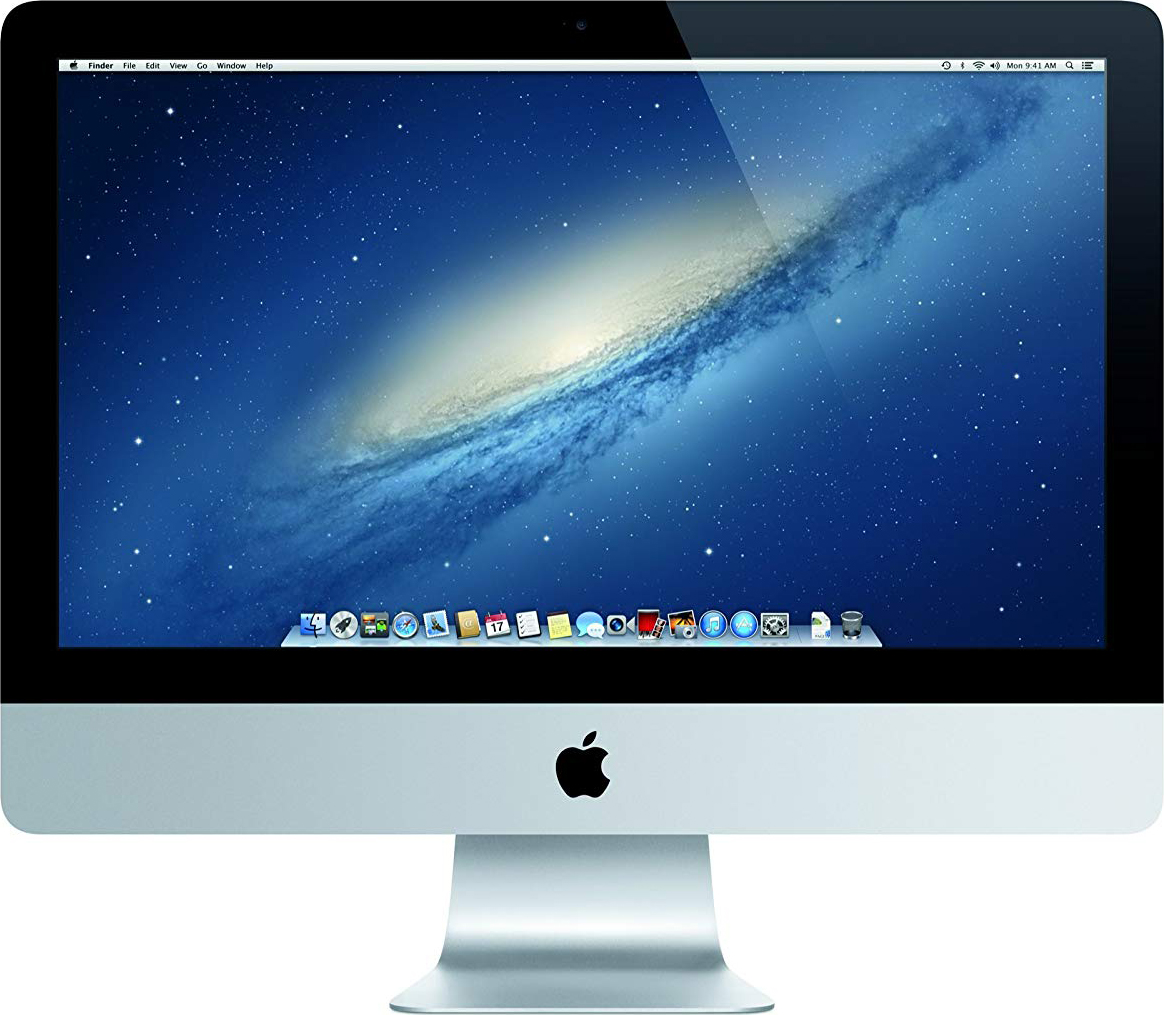 Apple iMac 21.5-inch - i5-4570R 2.70GHz / 8GB HDD Specifications:
| | |
| --- | --- |
| Brand | Apple |
| Product Type | iMac |
| Screen Size | 21.5-inch (1920x1080) |
| CPU | Intel® i5-4570R 2.70GHz Quad Core |
| Memory | 8GB RAM |
| Storage | 500GB HDD |
| Operating System | MacOS |
| Warranty | 6 Months |